Suncast Garden Storage Box With Single Seat
Garden Centre > Greenhouses, Sheds & Storage > Storage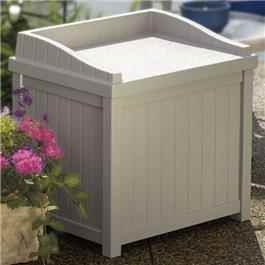 Suncast Garden Storage Box With Single Seat
£42.49
Perfect for use indoors or out, the Suncast deck box with seat is a great solution to many storage issues. The Stay Dry Design ensures that cushions and other fabrics can be stored during the wet weather in the knowledge that the will stay dry throughout. This deck box is great for storing cushions, boots, clothing, toys or even material such as salt for those wintery days. . This deck box benefits from a snap together design meaning that no tools are needed for assembly, the lid also features a rim around the back and sides so as to allow a cushion to fit securely, creating an indoor or outdoor seat . br .

Our community of gardeners have a wealth of experience, beautiful garden and great photos, discover more on the following pages: storage ideas.
Related Products


* Support Grows on You when you shop via the Garden Centre.
Why shop via the Grows on You Garden Centre?
Buy With Confidence
Find Inspiration
The Perfect Product
Wishlist