Suncast Rattan Garden Storage Deck Box
Garden Centre > Greenhouses, Sheds & Storage > Storage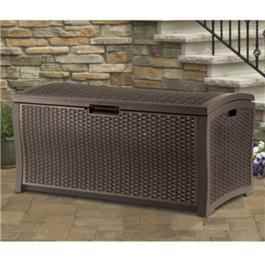 Suncast Rattan Garden Storage Deck Box
£174.49
This fantastic Resin Rattan Deck Box combines both style and functionality. Offering the classic rattan look, the Monaco benefits from a huge 462 litre capacity making it the perfect home for storage of toys, cushions, garden equipment or any other outdoor items. Far from being 'Just A Storage Space' thanks to the great rattan style, the monaco will add character to the home or the balcony. . Constructed using UV-resistant poly resin for strength and durability, the Monaco features a water resistant design with the added benefit of piston closure allowing you 2 free hands to fill the fantastic 462 litre capacity .There is a minimal need for tools thanks to the simple assembly process whereby the parts 'snap' together to create this great storage solution.

Our community of gardeners have a wealth of experience, beautiful garden and great photos, discover more on the following pages: storage ideas.
Related Products


* Support Grows on You when you shop via the Garden Centre.
Why shop via the Grows on You Garden Centre?
Buy With Confidence
Find Inspiration
The Perfect Product
Wishlist