Suncast Tool Rack With Wheels
Garden Centre > Greenhouses, Sheds & Storage > Storage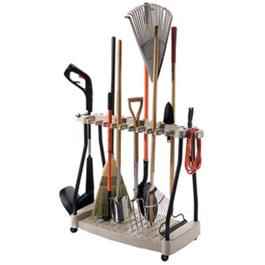 Suncast Tool Rack With Wheels
£47.49
This is the perfect way to organise your garage and to keep your tools in order. The Suncast Tool Rack With Wheels holds over 30 tools 20 large, 17 small and also has room for an electric cable. The side access slots with clip ensure that the tools stay in place, this also means that there is no need to lift the tool out of the rack . . With 4 quality castors, the tool rack is simple to manoeuvre, whilst the Steel-Core Strucure gives extra strength and durability. With No Tools required fior assembly, the Tool Rack With Wheels can be assembled in minutes thanks to the click together design. The UV resistant resin also means that it will not fade in sunlight . . For optimum stability, store your tools with the head down to add to the base for added stability. Packed Measurements 109W x 52D x 17H cm . Packed Weight 7.26 kilos .

Our community of gardeners have a wealth of experience, beautiful garden and great photos, discover more on the following pages: storage ideas.
Related Products


* Support Grows on You when you shop via the Garden Centre.
Why shop via the Grows on You Garden Centre?
Buy With Confidence
Find Inspiration
The Perfect Product
Wishlist